2023 Hyundai IONIQ 6 for Sale Near Riverside, CA

Find a New 2023 Hyundai IONIQ 6 for Sale at Premier Hyundai of Moreno Valley
If you're tired of constantly stopping at the gas station so that you can pay a high fuel bill, it might be time to explore electric options. The brand-new 2023 Hyundai IONIQ 6 offers an efficient ride that's incredibly comfortable, as you'll have some impressive features. If you want to see what it can do in person, then you'll want to visit our staff at Premier Hyundai of Moreno Valley.
Top Features of The 2023 Hyundai IONIQ 6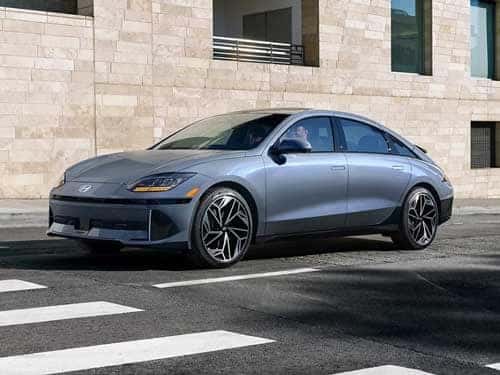 Look Your Best with Standout Features
If you're hoping to finance a car that you can be proud of on the road, then you're sure to appreciate the Amber LED Daytime Running Lights, the Side Mirrors that come with turn-signal indicators, and the 18-inch Alloy Wheels of the IONIQ 6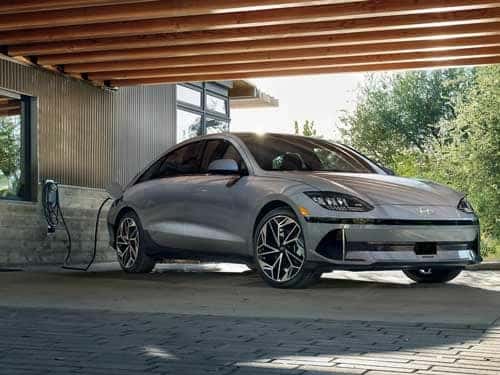 Get Back on the Road Quickly
Filling your car up with gas might be quicker, but it's also a lot more expensive. When you're using a 350kW DC charger, you'll be able to power the IONIQ 6 from 10% all the way to 80% in as little as eighteen minutes.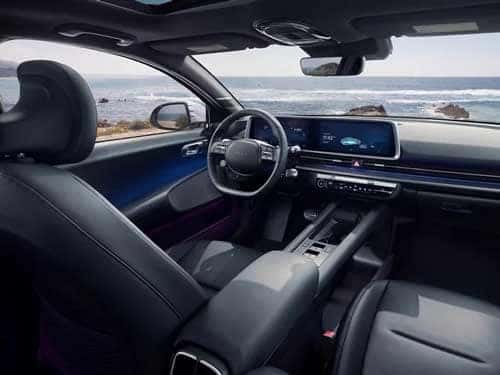 The Future of Driving
You may have heard people say that electric models are the future, and in the case of the IONIQ 6, they weren't lying. With Premium Remote Start Parking Assist, your IONIQ 6 will be able to park itself for you.
---
---
Powered by Electricity
A lot of drivers have range anxiety when it comes to electric models, but you'll be happy to know that the IONIQ 6 puts these worries to rest with a range of up to 361 miles. This allows you to drive across states before you even need a charge, and while you're on the road, you can expect to be working with up to 320 horsepower. If you're looking for an electric model that feels as responsive as your favorite sports car, you won't be disappointed. If you're near Moreno Valley, Riverside, or San Bernadino, you'll be able to try this model out for yourself at Premier Hyundai of Moreno Valley.
An Integrated Cabin
When you enter the cabin of the IONIQ 6, you'll be quick to notice the massive 12.3-inch screen that sits in the middle of your dashboard. With Apple CarPlay and Android Auto on board, you'll be able to make the most out of this smart system, as you can easily pair your phone. This will give you access to a wide variety of apps ranging from your audiobooks to your phone contacts. Other interesting tech features include the Bluetooth Hands-Free Phone System, the 12.3-inch Digital Instrument Cluster, and the Proximity Key.
The Luxurious Side of This Model
If you're looking to explore some of the more comfortable features, then you'll want to take a look at the:
Heated Front Seats: It's important to be able to relax on the road. This feature is perfect for those who love staying toasty, and those with bad backs.
Hands-Free Smart Trunk: You won't always have an extra hand, which is why the IONIQ 6 goes the extra mile when it comes to assisting you.
Leather-Wrapped Steering Wheel: This wheel comes with LEDs built into it so that it can provide you with an interactive illumination.
When you want to switch to something new, you'll want to apply to finance the new 2023 IONIQ 6 at Premier Hyundai of Moreno Valley. You may also want to value your current model, in case you're thinking of trading it in.